How To Clean A Polytunnel

Spring comes early inside a polytunnel and February is a great time to get a jump start on the spring cleaning. If you have been making full use of your polytunnel then you may well have had all sorts of things growing in the polytunnel over the winter months. You may still have varied greens for winter salads, overwintering onions, garlic, perhaps some broad beans…
Now, however, it is time to begin sowing some summer crops. A polytunnel allows you to sow far earlier than you would be able to do outside. Before your polytunnel really begins to fill up, however, it is a good idea to make sure you have a good old clear out and clean your polytunnel from top to bottom.
Why bother cleaning a polytunnel?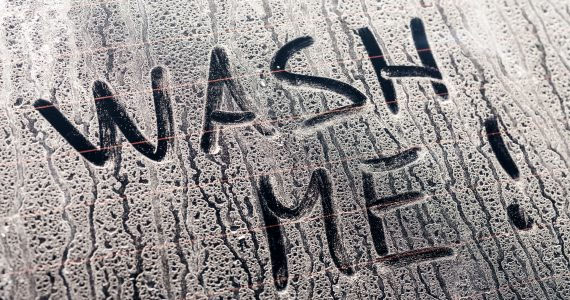 Cleaning your polytunnel will help to reduce the incidence of disease as the weather warms and will make
sure your plants get all the sunshine they need to grow. Making sure that the plastic is clean will also help to prolong its life and ensure that it lasts as long as possible
Clearing your polytunnel
Before you clean your polytunnel you should take the time to clear out any dead foliage or unwanted plants. Weed thoroughly and remove any debris that has been lying around over the winter. Think about any new staging you may wish to add and generally prepare planting areas for the coming season.
How to clean your polytunnel
Inside and out, you can use a pressure sprayer, or simply a soft broom or paintbrush, to apply an organic cleaner to the polythene. Algon Organic Path and Patio Cleaner is safe for wildlife and pets. As it is entirely non-toxic you need have no concerns about using it close to where food is grown. There is no need to wash it off afterwards – just leave it there to keep doing its job. Do a thorough job and you will not need to clean your polytunnel again for another year. To control condensation, you could also consider applying Sun Clear. Sun Clear helps prevent light-blocking condensation from forming inside your polytunnel and is also safe to use around growing food crops. Sun Clear need only be applied once every two to five years.
February is a good time to clean your polytunnel because at this time of year it is likely to be at its emptiest. Soon it will be a jungle once again, so prepare now to make your plants stay happy and healthy in the growing season that lies ahead. First Tunnels have everything you need to keep your polytunnel in optimum condition.
Sean Barker is the MD of First Tunnels, and is enthusiastic about providing quality gardening supplies to gardeners across the UK